OUTLINE
The ANA Windsurfing World Cup Yokosuka-Miura is
the world's premier windsurfing competition, officially recognized by the PWA (Professional Windsurfers Association).
The World Tour is held in about 10 locations each year, mainly in Europe.
Asia has never hosted the event.
The only Asian events to be held are in Korea and Japan.
In Japan, the event has been held every year since 2017 after 24 years, but the
2020 and 2021 competitions were cancelled due to the new coronavirus.
The world's top professionals gather at Tsukuihama Beach to compete for the world's number one spot.
In this 4th edition of the event, we aim to deliver speedy and powerful races and
experience windsurfing.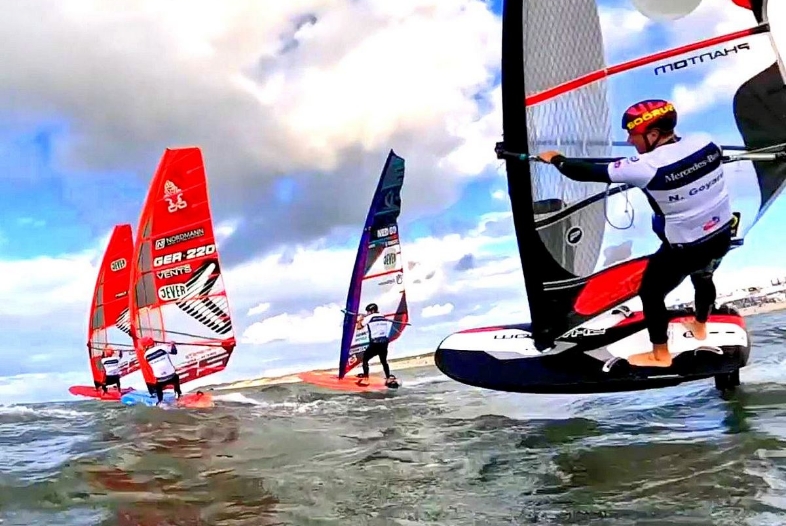 Philosophy
VISION
Through the Windsurfing World Cup, we will bring joy,
inspiration, and vitality to people and communities in the new living environment.
MISSION
We embrace diversity and aim to expand international recognition through the realization of sustainable competitions.
Windsurfing is a sport that unites the sky, ocean, and wind, and we aim to communicate the appeal of windsurfing to people and gain recognition for the sport.
We will contribute to the revitalization of the Miura Peninsula by cooperating with local people and related companies to make the event a reality.
Outline
Competition Name
Fly! ANA Windsurfing World Cup YOKOSUKA MIURA Japan
Organizer
ANA Windsurfing World Cup YOKOSUKA MIURA Executive Committee
Constituent Organizations
All Nippon Airways Co., Ltd, Keihin Electric Express Railway Co, Ltd,
Japan Windsurfing Association,
Kanagawa Prefecture, Yokosuka City, Miura City
Authorized
Professional Windsurfers Association (PWA)
Sponsored
Embassy of France in Japan, Sports Agency, Japan Tourism Agency, Yokosuka Chamber of Commerce and Industry
Venue
Tsukuihama Beach (Tsukui 1-chome, Yokosuka City)
Date of the event
November 11 (Friday) to 15 (Tuesday), 2022 [5 days in total]
Official World Cup Competitions
Friday, November 11, 13:00-17:00
Saturday, November 12 - Monday, November 14, 9:00-17:00
Tuesday, November 15, 9:00-14:00
※The start time of the competition will depend on the weather and sea conditions.
Competitions to be held
SLALOM (Fin & Foil) | Tournament Format